Annie
By Peter May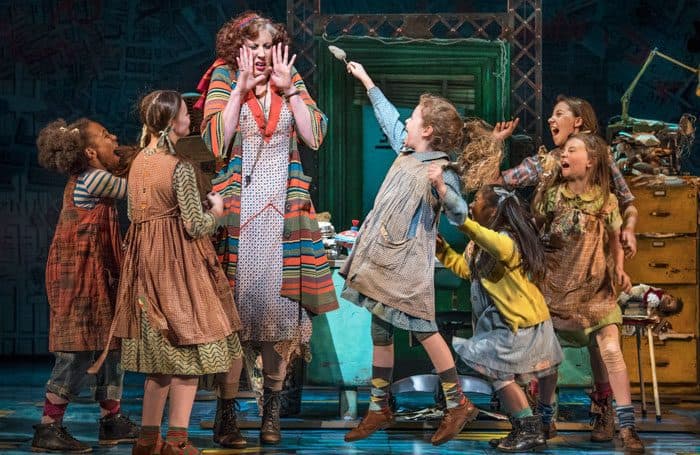 ****
At the moment in London there seems to be an influx of major productions where younger performers are ruling the roost, so joining Matilda and the School of Rock on the theatre circuit comes classic musical Annie.
Set in New York amidst the great depression, where the homeless huddle together in man made villages called Hooerville, they sing, eat and sleep together to complain about their hard knock lives. The story follows little orphan Annie; a red headed 11 year old girl who decides to escape from her gloomy orphanage in a quest to find her biological parents. She is successful with this until she is confronted with a policeman who brings her back by the request of orphanage owner Miss Hannigan.
TV star Miranda Hart is the star billing here, perhaps an unlikely choice to perform the grouchy and scheming Miss Hannigan due to her sunny persona. Hart is not a natural singer by any means, basically bellowing her songs rather than singing them and her stab at an American accent is wobbly at best, but it doesn't really matter as she plays the character with great comic aplomb. If you are a fan of Miranda's antics on her sitcom you will be sure to enjoy her performance here, at curtain call she even does her infamous gallop as a nudge to it.
It is a case of Annie being in the right place at the right time, while in Hannigans office ,an assistant to Oliver Warbucks chooses her to spend Christmas in the lap of luxury at the billionaire's mansion. Their mutual neediness helps both to hit if off after Annie persuades him to join her to see a movie, cue an excellent tap-dancing number.
An impromptu gift of a locket from Warbuck given to Annie stirs up unexpected emotions for her and ultimately forces him to help Annie to continue her search to find her folks. With a plan cooked up between Hannigan and her brother they smell the reward money, which takes the story down a darker road.
The staging is very attractive and colourful, lots of turquoise and orange, with falling pieces of jigsaw puzzles scattered around overhead. It is a thoroughly uplifting and enjoyable show throughout and as one of the songs says 'You're never fully dressed without a smile', audiences who come to see it will no doubt leave with one.
Until 8 January, 2018
http://www.piccadillytheatre.org/annie/